Saturday, February 7, 2009
Sunday, February 1, 2009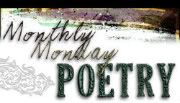 Hey everyone! Okay, so I'm going to be jumping on board Abigail Kraft's Monthly Poetry Mondays. I won't always be posting recent work (the poem I'm posting today, for instance, was written when I was 15), but I'll try to participate as often as I can. :)
So, here goes...
MOORS
the moors lie, an open canvas
blown smooth by the wind --
barrenness, barrenness, barrenness that
gives birth to so much beauty.
the opening dawn brushes the heart
steals it away into the sweet, the familiar mundane
wavering chords of birdsong
weave through thick emptiness
fading, fading, fading
into the fog; straying,
waking in the rain.
lost hope is called back
and love wanders into the sun,
leaves its nest behind
to soar into heaven's sanctuary,
circling, circling, circling
over the gentle folds of the earth.
.
Monday, January 26, 2009
Saturday, January 24, 2009
Thursday, January 15, 2009
Tuesday, December 30, 2008
Thursday, December 25, 2008